A life of a photographer can actually be stressful. Commercial photography can be demanding with quick turn arounds, demand of art directors, ad agencies etc.
So yes… photographers have vices…
Cigarettes, alcohol, and other vices.
But… anytime you look at a photographers images, you should consider that they might know of a program called photoshop, and that they should know how to use it.


That said… I am not an alcoholic, and do not need three 750ml bottles of single malt scotch to get me through the week.


It is a simple composite. Three images quickly blended to imply that I purchased three bottles. 

It's PPOC convention this week and I don't want to pay $16 a drink, so I bought a bottle to share with colleagues.

Composites can be simple as above or complicated The purpose can be to create or enhance the story.
For this composite I placed a tripod and camera to capture the rough frame of the fridge interior.
I staged the new food items around the edges of the frame, then placed the subject in a prominent place.
When I was happy I tested for rough exposure then fired off a few frames.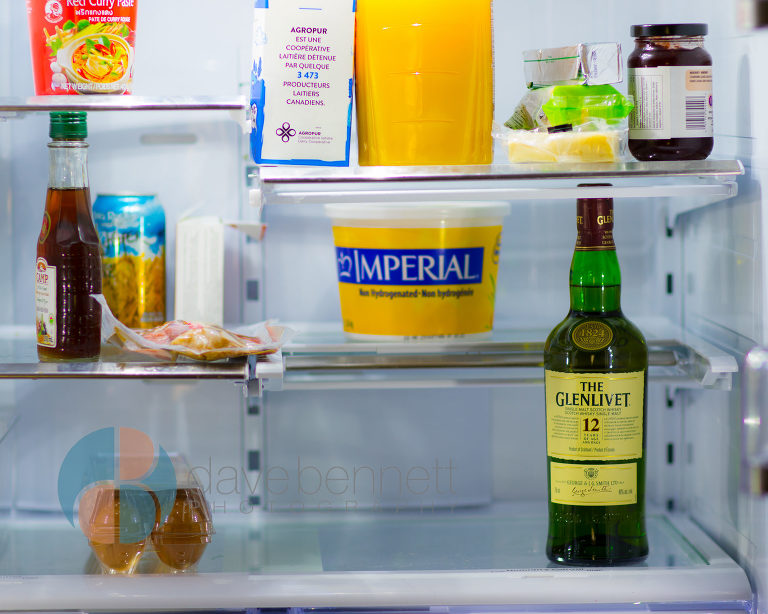 By only moving the subject (the bottle in this case) I can quickly mask in the bottle in layers.
With layers in place I do my adjustments to produce the final image.
If you'd like to get some ideas of more complicated composites visit Ben Shirk . If you like what he does let me know and I'll see what I can do for you.
If you'd like to discuss an idea contact us info@davebennett.ca