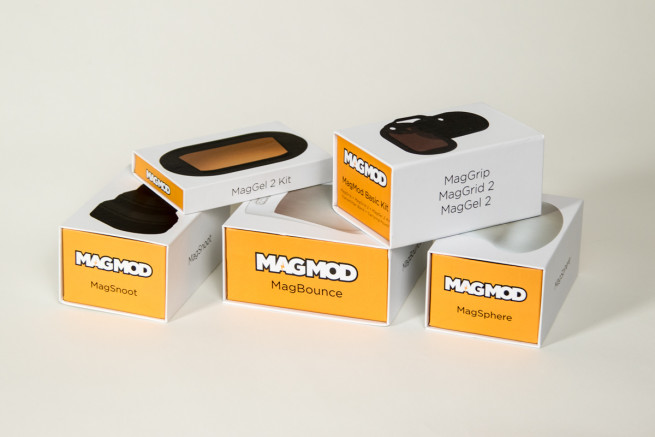 The more I learn about my speedlites the more I see their potential. One way to maximize their potential is with modifiers.
What is a modifier? A modifier is any device that changes the light from the source. You can use a gobo to block light, or as subtractive light, a reflector to add light to an area or a scrim to soften the light. A modifier can be a piece of cloth or even tinfoil… sounds technical doesn't it. Well it doesn't have to be, but where's the fun in that? Speedlites are used for their portability, ease of use, and adaptability to fast changing scenes. It only makes sense that we want the same of our modifiers.
Soon as I saw these modifiers I wanted them… I didn't know how to use them… and still don't use them to their potential… but I know they looked cool.
Ok what am I talking about? MagMod, a modifier attached to your speedlite with rare earth magnets. I think their site talks of wizardry, so perhaps these are middle earth magnets, but I cannot confirm this. Snoots,grids, gels, diffusers, reflectors… all available.
I've talked about gels before, so if you want to read up on them, here's the link Speedlite Gels.
What's special about these gels is that they are polycarbonite 'really strong', they are placed in a MagGel holder that can hold up to three gels. Allowing you to colour correct for most lighting situations or create your own look. Shown below is the MagGel Kit and Wallet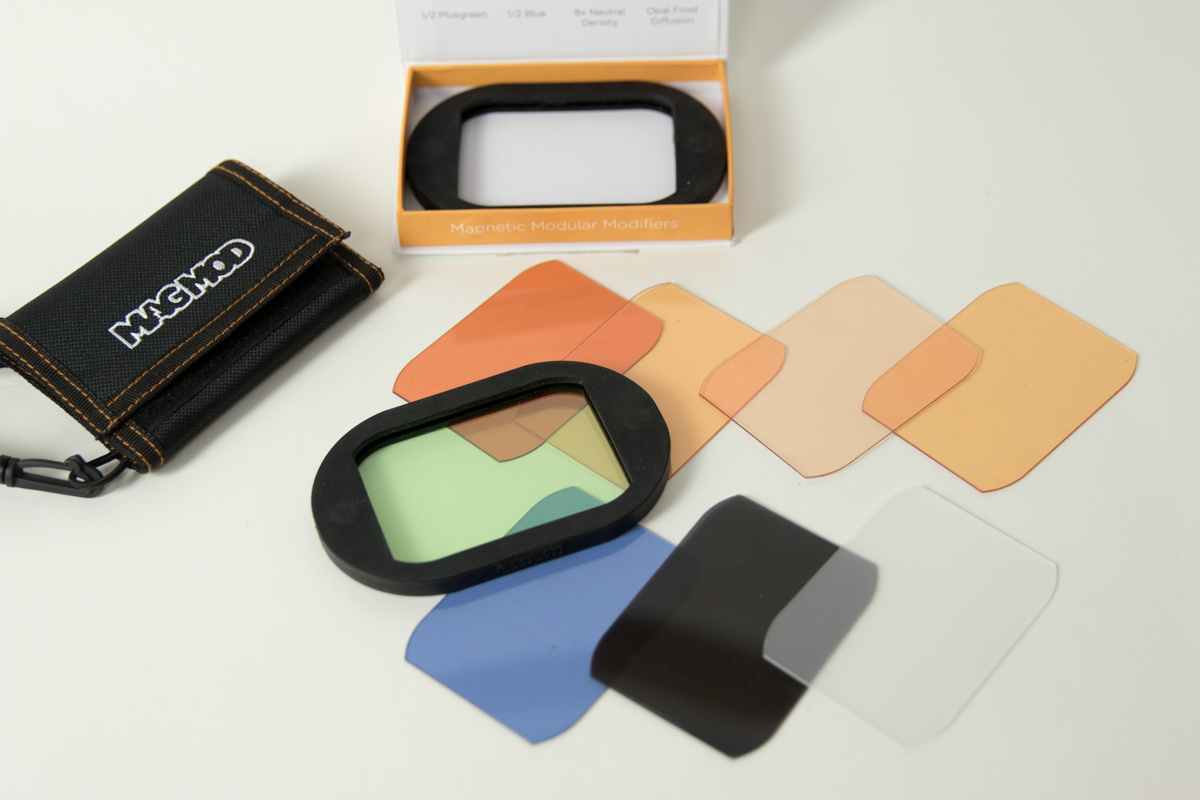 Here's what you need to attach them, the MagGrip, available in a kit or by itself. This rubber band stretches around your speedlight allowing all the MagMod modifiers to easily be installed and swapped.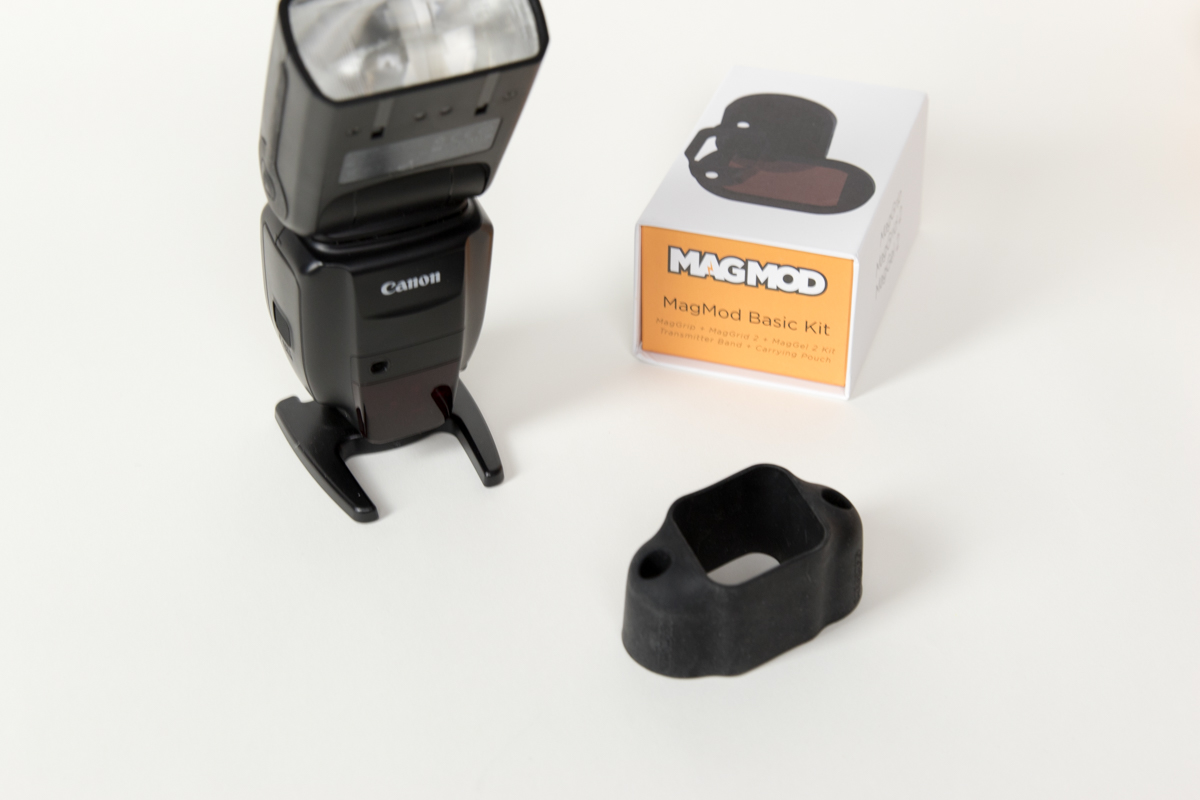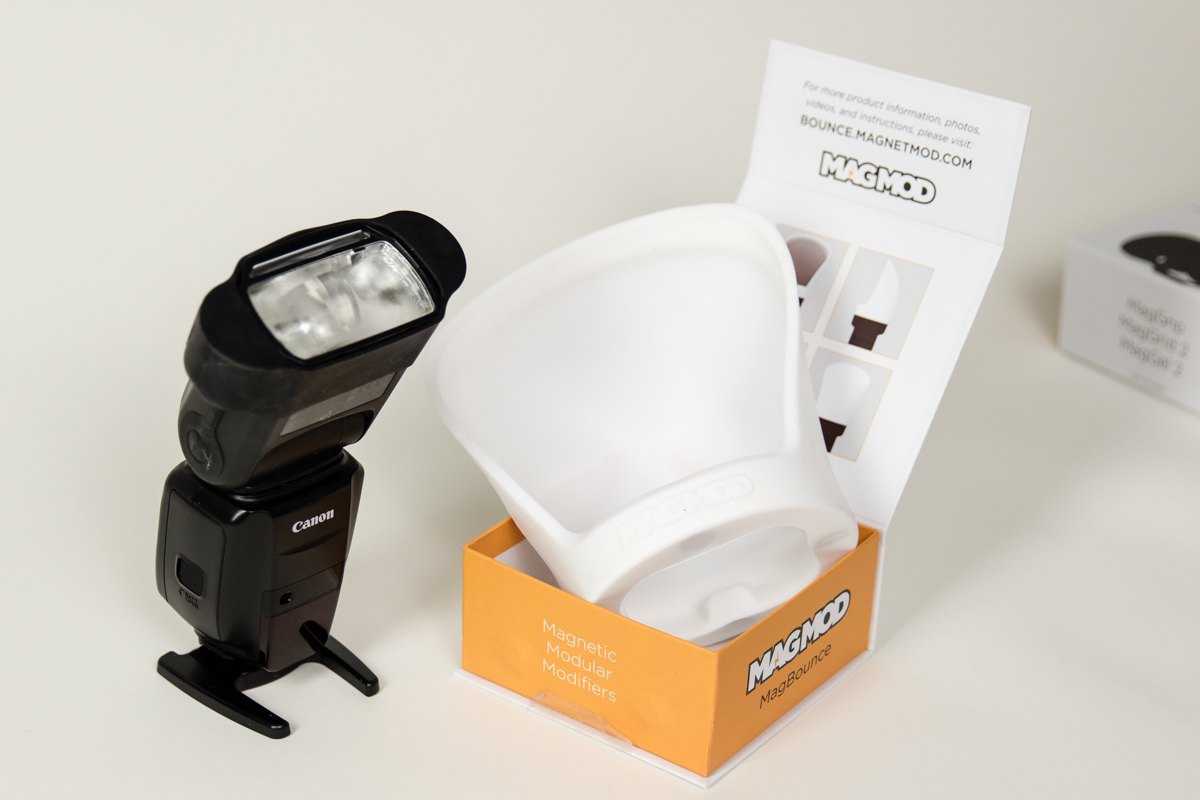 Modifiers such as the MagBounce– which as you may have guessed allows you to bounce light over a larger surface, illuminating an area similar to a large softbox.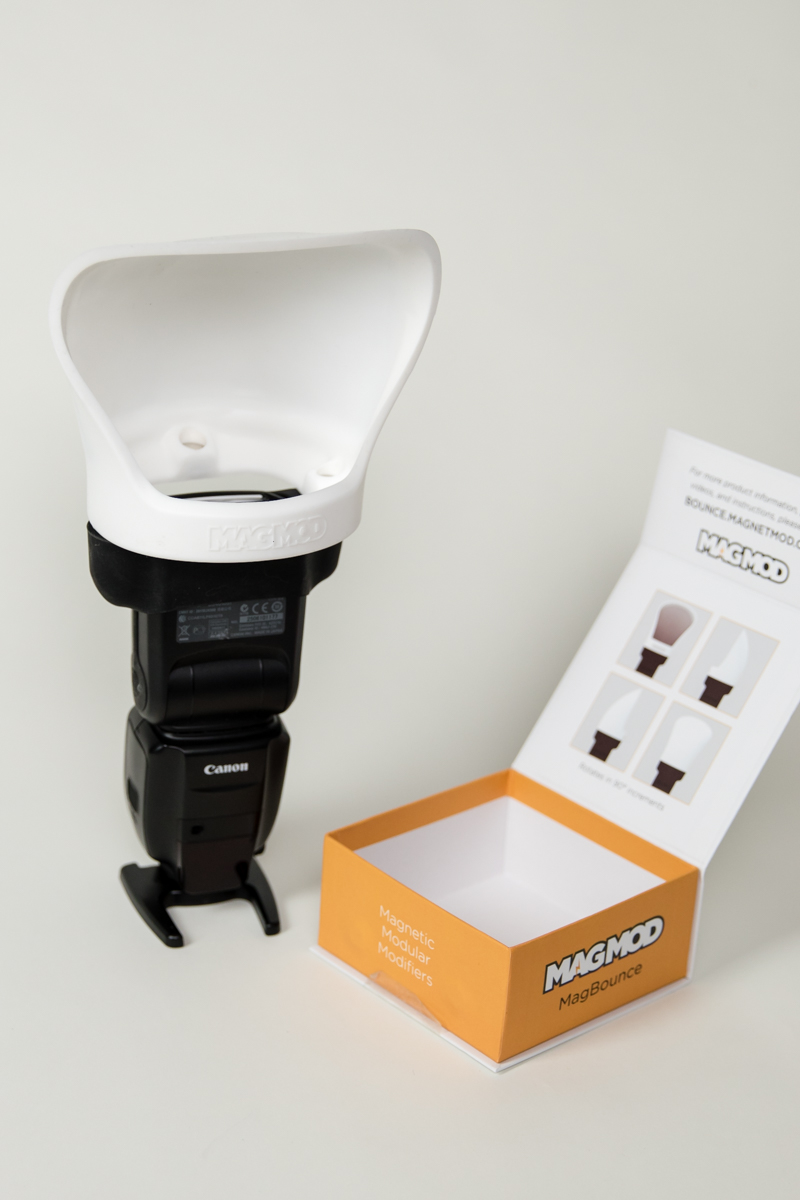 Another modifier to create softer light is the MagSphere. The MagSphere can be used as an on camera diffuser to create a larger softer light source. As an added bonus the MagSphere has a built in MagGel holder. Shown with blue Gel.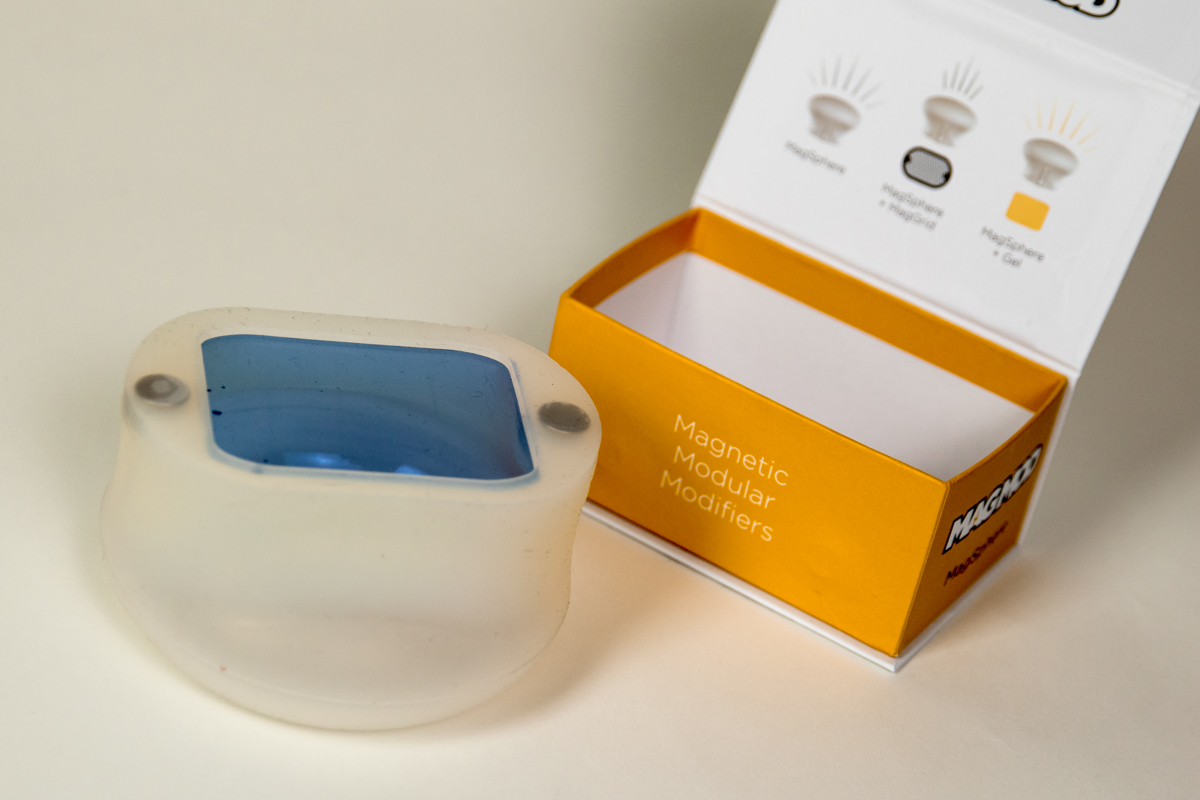 Next up the snoot. Instead of creating larger light areas the snoot directs light to a specific area depending on how far you extend or collapse it. Show fully collapsed in the box.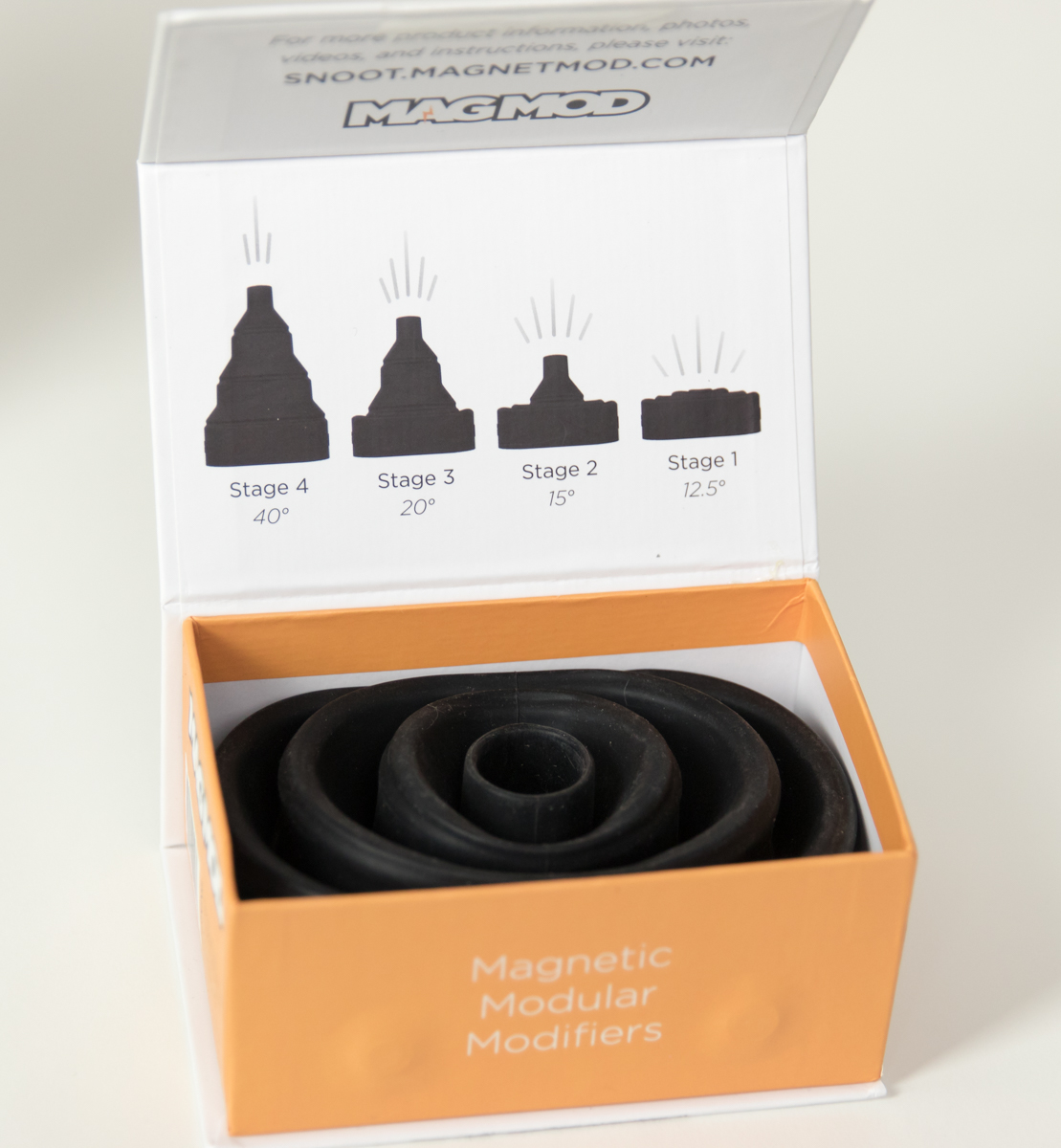 Last modifier I'll mention is the MagGrid. Like the snoot the Grid directs or limits the area of light. By stacking grids you can significantly reduce the spill of light. Shown below two grids with a green MagGel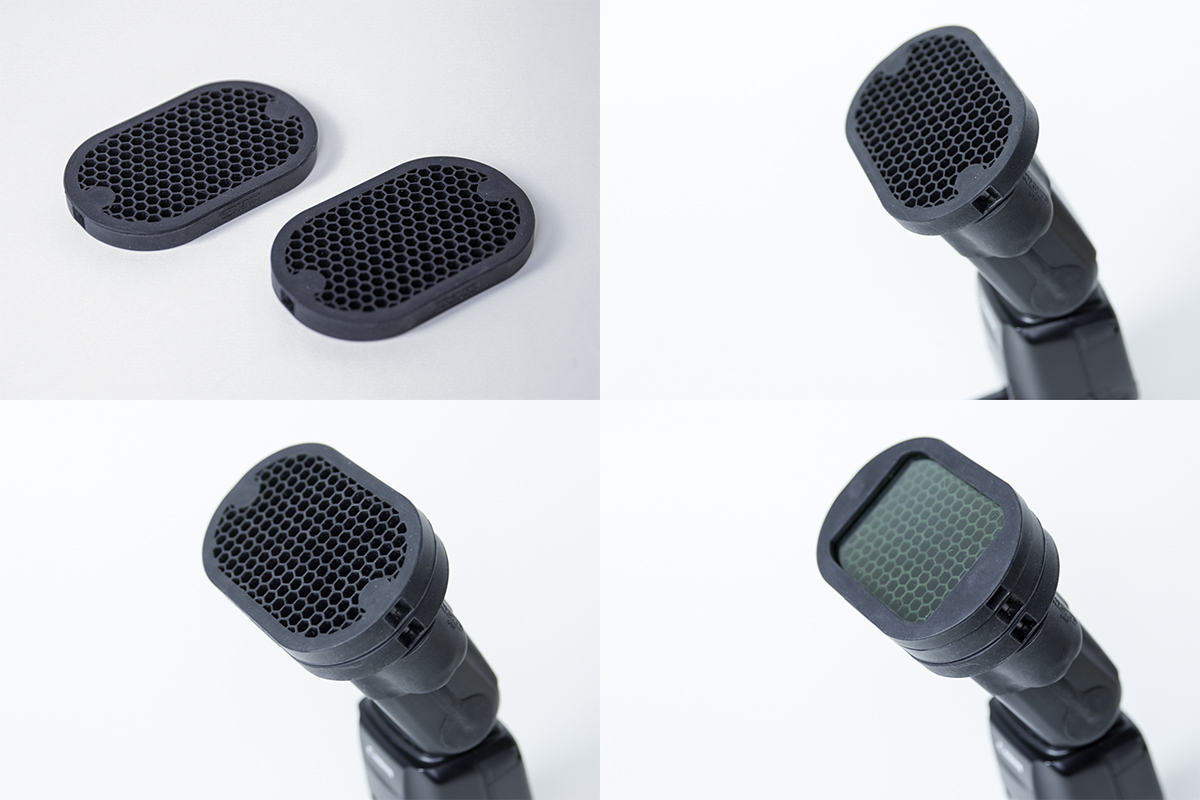 Those are the highlights, just to inform you of the product.
Looking for samples of what can be done with them?
This Video featuring Two Mann Studios from MagMod gives some ideas.

For better images, and more thorough product details visit MagMod
As a side-note: In Canada MagMod is now available on Amazon.ca. Direct from MagMod not a third party. Prices are about the same as buying from US site, just faster shipping and no cross border duty hassle.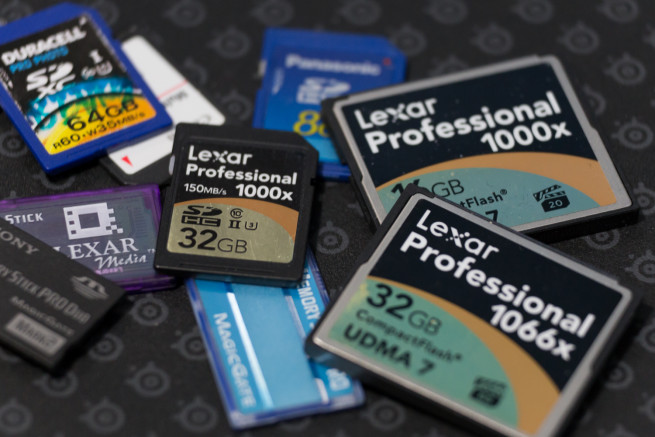 If you've followed my blog, you may get the sense that I like the techy side of photography, and that I like new gear. Well that is simply not true!  New gear  and the latest tech are only tools for photographers, they don't make you better. In fact a new crisp lens and high res camera will enhance the flaws of an image. None the less… I love gadgets and new tech and gear.
This would have been a good segue to introduce my latest gadget.. but the postman has not shown up. Looking back over some previous posts I realize I have yet to talk about memory cards. So, before I forget, or the doorbell rings, here is a quick overview.
Without a memory card your camera has nothing to store the images.  Therefor always have a memory card in your camera. When you take your card out of your camera to store your images, put a fresh card in… this will minimize the chance that your memory card is in the card reader when you get to the photo-shoot. It is also advisable that you set your camera to NOT fire without a card.
"Release shutter without card  OFF"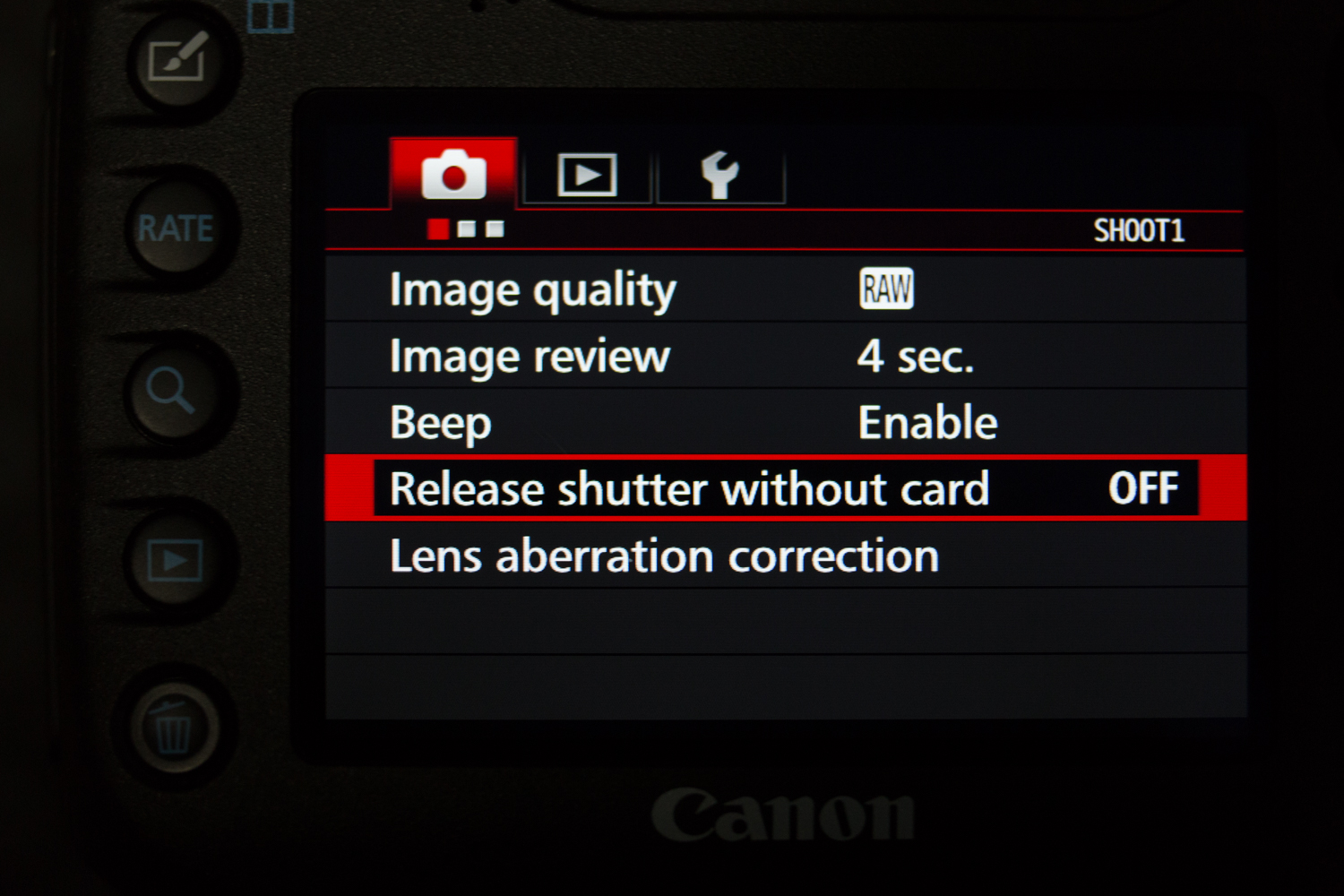 "OK… blah blah blah… what do I need to know about memory cards? Aren't they all the same?"
Obviously not, or I'd not bother typing this information.
Memory cards come in all shapes and sizes depending on your camera or device. They also come in all types of storage capacities and transfer speeds.
If fact the choice can be overwhelming if you are unfamiliar with them.
Let's simplify. Current prosumer and professional cameras have either an SD card , CF card, or both card slots.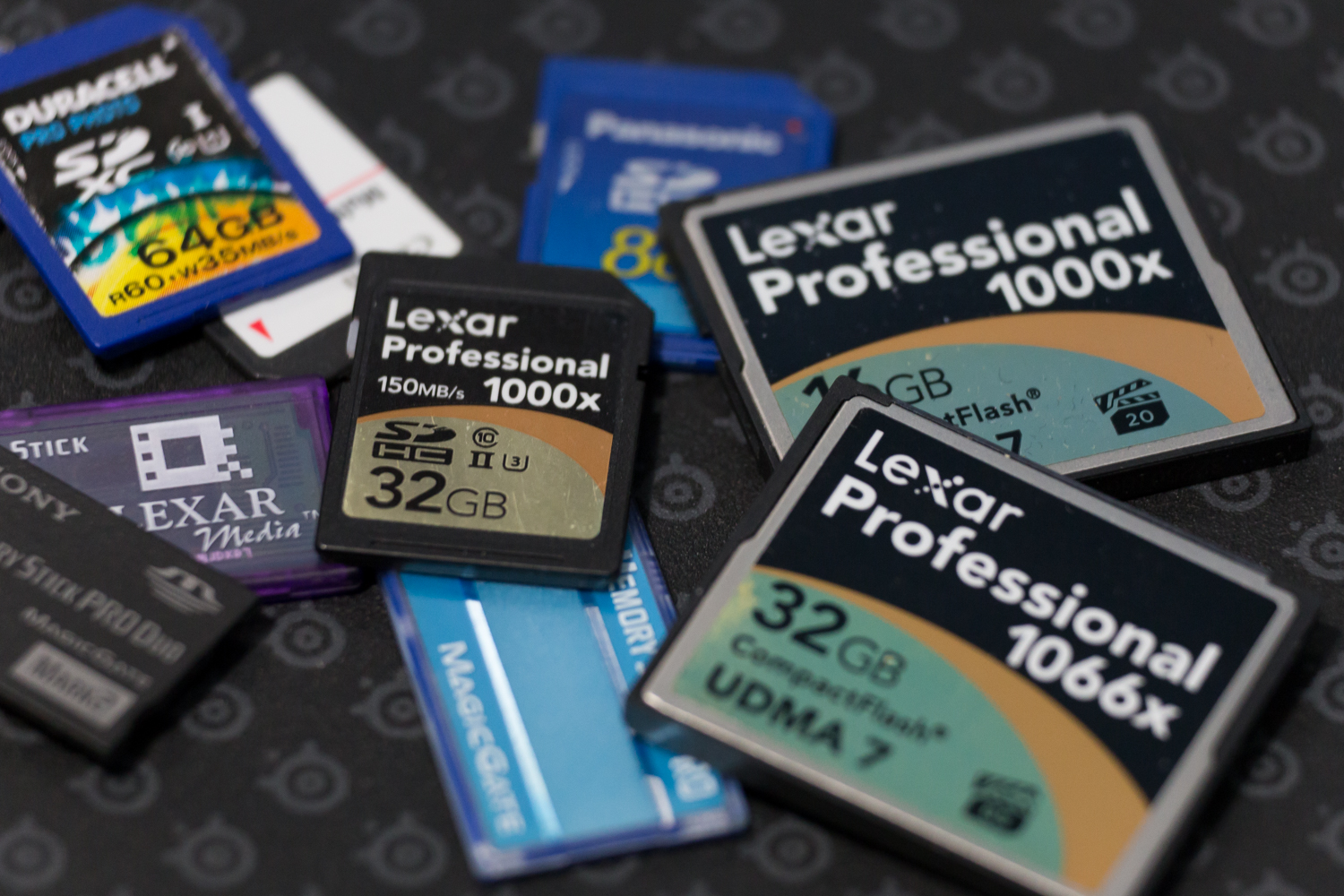 SD cards
The SD card  stands for secure digital, with newer variations SDHC and SDXC cards. SDHighCapacity store between 4GB and 32GB. SDeXtraCapacity cards support capacities between 64GB and 2TB(not on market yet).
What size do I need? Let me answer by example. Using a 5D3 you will get about 530 RAW images on a 16GB card.  1060 on a 32 GB. So, how confident are you that your card won't fail? I have gone to 32GB cards, but you might consider two 16GB cards for important events. – size is up to you (and your budget)
So why a larger card? Video- Video eats up GB – I do not know the actual numbers as I've not yet done video, but 1080p uses about 10 min per 4GB according to a manual I glanced at, 4k uses?? I have no idea, but oviously more.
"What are all those symbols on the card?"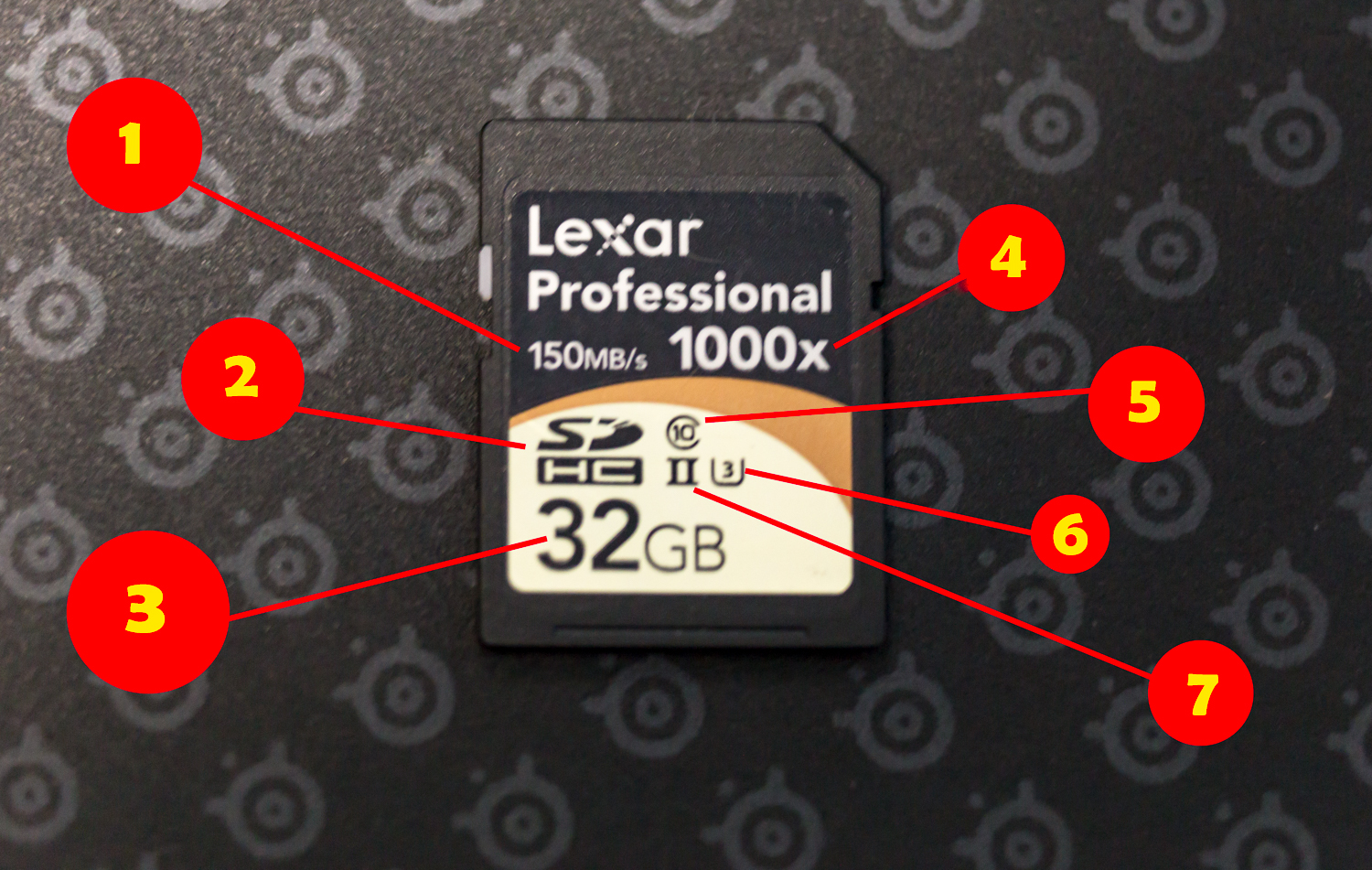 Speed- Read speeds-write speeds-classification of speed.
In this case faster the better, buy the fastest card you can comfortably afford.
Maximum Read Speed – 150 Megabytes per second
Type of card SDHC
Capacity of card -32 GB
Also Maximum speed 1000x = 1000 x 150 KB/s =  150MB/s
Class 10, guaranteed minimum write speed of 10 MB/s
UHS speed class 3, sustained writing speed of 30 MB/s
UHS read speed, Class II – up to 312 MB/s
The fastest SD card that I am aware of at time of writing is the Lexar 32GB Professional 2000x UHS-II SDHC and the Lexar 64GB Professional 2000x UHS-II SDXC. with claimed read speed of 300MB/s.
SD cards are small, quick and now have high capacity, they are also often less expensive than CF cards. The dowside is they have slower write speeds, are not as durable, the contacts wear and the card can easily be bend if not placed in protective case.
CF cards, are larger and more durable, and until recently were significantly faster.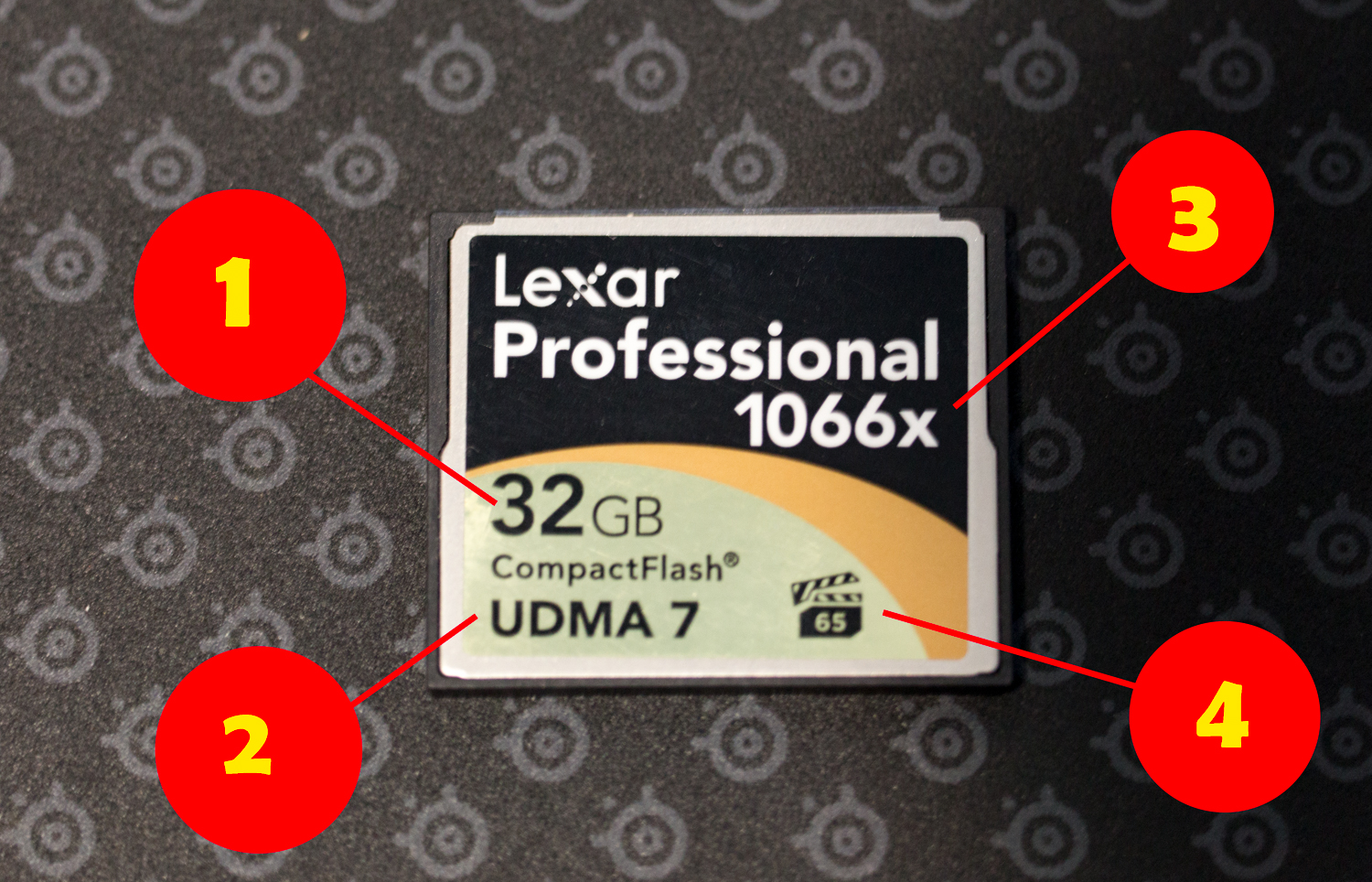 Size of Card
UDMA 7- maximum read speed- 167MB/s
Minimum sustained write speed- 65MB/s
Maximum read speed 1066x = 1066 x 150 KB/s = 160MB/s
Write speed remain faster on CF cards- so you get images out of your buffer faster. The depicted CF card has minimum of 65MB/s and lists a maximum of 155MB/s write speeds. I found no write speed information for SD cards other than the minimum of 30MB/s
New formats on the horizon:
CFast 2 – supported by Canon and Phase 1, with read speeds of up to 450MB/s and write speeds up to 350MB/s.
XQD supported by Sony and Nikon, read and write speeds of 168MB/s.
Whatever card you use it will only write/read as fast as your matched hardware. Be sure to get the suitable card reader to go with your card. I use the Lexar® Professional USB 3.0 Dual-Slot Reader – it reads CF and SD cards via USB3 up to 500MB/s — faster than current cards on the market.
I think that covers enough techy tidbits for the day.
Now go get some extra cards and capture images as fast as you can.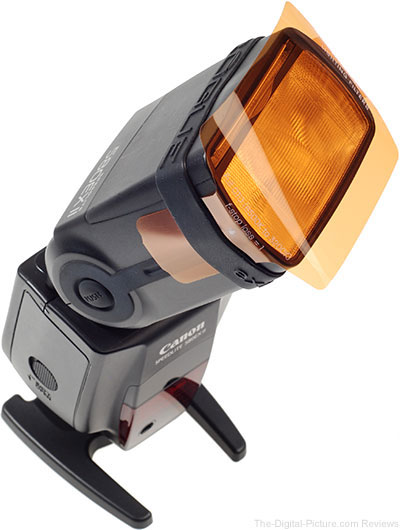 Image from: the-digital-picture.com Reviews
This weekend I was assisting on a shoot with Corey Pollack and he chose to use gels on the speedlites to enhance his vision of the image.
More images from the session on his blog CLICK HERE
So with that fresh in mind what better topic for this weeks Tech Tip Tuesday.
'Flash Modifier – Gels'
Perhaps you've been wondering what the coloured piece of plastic is that came with your flash. It's know as a Gel, simply put it modifies your flash output from close to daylight (5500-6000 Kelvin) to match the artificial light you may be shooting in.
In addition to using gels to match artificial lighting you can use the gels to to change the colour of a white backdrop, or provide a different look to your image.
One economical and practical kit is the Rogue Flash Gels Universal Lighting Filter Kit.
I purchased mine from a local store (Vistek) for about $40. While doing a quick Google search for other options I found an article about today's topic on one of my favourite sites.
So instead of covering the same material, I think it best to provide the link to a well written and thorough review of the product.
the-digital-picture.com by Bryan Carthan
Be sure to check out the rest of his site when you finish reading the review. I also recommend joining the online community forums – weekly challenges and great inspiration.
the-digital-picture.com – Forums